Scott's Tennessee Battery
A Confederate Battery's Civil War History and More !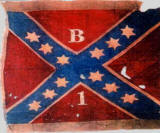 Yes this is a picture of Scott's Tennessee Light Artillery, Company B's Original Battle Flag,
Click on the e-mail icon below to contact Lt. Marsh for more information or questions about the battle flag.

4th Iowa Independent Battery Light Artillery


"Last updated 9/6/2015"
Copyright © 1999-2015 by Scott's Tennessee Battery, Inc